Stephen Barstow, author of 'Around the World in 80 Plants' is joining us all the way from Norway!  Join us for a night of discussion on perennial plants, seasonal eating, and foraging in the wild.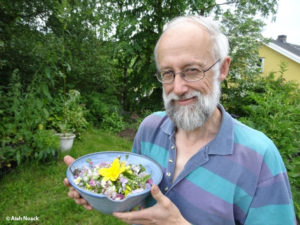 When: Thursday, April 6th from 6:00 PM – 9:00 PM
Where: Centretown United Church, 507 Bank St
Cost: $20

To register, please contact:
administration@justfood.ca|613-699-6850 x10
Stephen is in near-Arctic Norway and has devoted 35 years to trialling over 4,000 different vegetables, most of them perennials, several of which are common ornamentals (edimentals). It is unlikely that anyone has tried and eaten so many different species of plants. As a young vegetarian in the 80s he was told it would be too cold to grow vegetables! His megasalads, consisting of 537 species in 2003 and 363 in 2001 earned him the title the "Extreme Salad Man". Stephen's book "Around the World in 80 plants ", an inspiring edible adventure across the continents, was published in the UK by Permanent Publications in November 2014 (the people who publish Permaculture Magazine).
The talk has now been given in several countries around the world: Norway, Bulgaria, Sweden, Iceland, Denmark, England, Scotland, USA, Canada, Japan and New Zealand.