Celebrating Ontario's 150th Anniversary with Better Community Spaces in Ottawa-Orléans
Announcing new funds to create community space at Just Food Farm
MPP Marie-France Lalonde announced today that Just Food is receiving $246,800 of support through the Ontario150 Community Capital Program for their Barn-Raising Renovation to create a city-wide community asset at the Just Food Farm on the NCC Greenbelt. The Ontario150 Community Capital Program will help not-for-profit organizations, like Just Food, renovate, repair and retrofit existing community and cultural infrastructure. This support will be used to increase accessibility and maximize community use of public spaces, delivering better facilities for families in the community.
"Infrastructure is the backbone that supports community life. It gives us spaces to come
together, to be active or to honour our heritage, in this case, honouring our agricultural heritage. Our government is helping Ottawa-Orléans strengthen community infrastructure that makes a difference in our everyday lives."
— Marie-France Lalonde, MPP for Ottawa-Orléans
"We are grateful to Ontario 150 and Trillium for granting us funds to create a community space by renovating the barn at the Just Food Farm in the NCC Greenbelt to connect community around food and sustainable agriculture in Canada's capital for decades to come."
—Patricia Ballamingie, Just Food Board Chair, local grant recipient
"The Ontario150 Community Capital Program will positively impact people right across the province by improving public spaces like parks and youth centres. Our investments in these important projects will build a strong social, cultural and economic legacy for our communities for years to come."
—Eleanor McMahon, Minister of Tourism, Culture and Sport
"I thank the Province of Ontario for its important contribution that will allow Just Food to restore and modernize their farm's barn. This contribution will also assist the National Capital Commission with its efforts to preserve the Greenbelt's rich rural landscape."
—Dr. Mark Kristmanson, Chief Executive Officer, National Capital Commission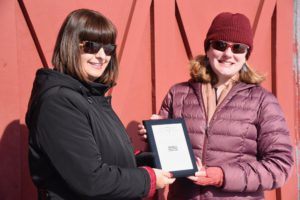 Ontario is investing $25 million in the Ontario150 Community Capital Program to support 203 capital projects. In total, these investments are expected to result in almost 1.4 million square feet of renovated community space and more than 36,000 hours of additional availability for physical activity and arts programming.
Ontario is recognizing the historical significance of 2017 with Ontario150, a year-long
commemoration that will honour Ontario's past, showcase the present and inspire future
generations.
The Ontario150 Community Capital Program is one of three Ontario150 grant programs that will promote community engagement, empower young people and contribute to economic growth.
The Ontario150 Community Capital Program is administered by the Ontario Trillium
Foundation, an agency of the Government of Ontario and one of Canada's largest granting
foundations.
The Ontario Trillium Foundation uses research to guide decision-making and relies on
community-based volunteers across Ontario to review applications and guide granting
decisions.
In celebration of Ontario's 150th anniversary, the province has also released a new
recording of A Place to Stand (Ontario Song), the province's unofficial anthem. The 50-year old song has been refreshed to instil a sense of pride and belonging for all.
Investing in local communities for Ontario's 150th anniversary is part of Ontario's plan to create jobs, grow our economy and help people in their everyday lives.