Start-up Farm Program Graduates
The following farms operate at the Just Food Community Farm—most as graduates of our Start-Up Farm Program, and mentors of future program participants. Just Food Farm became certified organic through Ecocert in October 2014 and maintains this certification on a yearly basis.
The Just Food Farm is located in the Capital Greenbelt, 12 km east of Parliament Hill.
Cadence Ecological Farm
Cadence Ecological Farm is a 2 acre education farm that hosts the youth skills program; employing youth and teaching them to farm in partnership with Just Food and the Youth Services Bureau.
Starting in 2017, the farm is run by Brett Weddle with help from the seasonal youth team. The farm exists to teach people how to grow food, and to connect them to their local ecology. Cadence sells at the Main Farmers Market, and the Just Food Farm Stand. Seasonal CSAs are available too, more information can be found at Cadencefarm.ca
Capital Bees
Ron St. Louis, Melissa, and Sadia Abdullahi
Capital Bees cares for nearly 50 beehives that help pollinate the delicious organic veggies at the Just Food Farm. These bees also forage on an abundance of wildflowers and flowering trees.
We are Certified Naturally Grown which means that we don't use synthetic pesticides or antibiotics to control pests or diseases. We only use natural methods that are similar to organic standards. You'll taste the difference in our honey and keep coming back for more.
We are actively breeding bees to be resistant to pests and diseases, gentle to work with, and adapted to our local climate. In 2017 we joined the Ontario Resistant Honey Bee Selection Program. We conduct hygienic testing every year through the Ontario Beekeepers' Association's Tech Transfer Program to scientifically ensure the bees' natural resilience.
We're not just breeding better bees, we're training better beekeepers.
We offer comprehensive hands-on learning for the full season and all the support you need to become a competent and confident beekeeper.
Products: Certified Naturally Grown honey, beeswaxand candles, bees (nucleus colonies, queens, queen cells), beekeeping tours, workshops and courses.
Where to Buy: Shop online on the Open Food Network, pick some up at the Just Food Farm Stand, Main Street Farmers' Market (at the Cadence Ecological Farm booth), see our website for a full list of retailers, or contact us for wholesale.
Contact Information
Phone: 613-852-5063
Email: ron@capitalbees.ca
Website : www.capitalbees.ca
Capital Greens Urban Farm
Mathew Levinson
Capital Greens is a sustainable urban farming business that specializes in growing artisanal-quality, pesticide-free herbs and veggies at the Just Food Farm, as well as in under-utilized urban spaces, such as suburban front and backyards in the City of Ottawa.
We are deeply concerned about the increasing separation between eaters and food producers. There is a severe lack of knowledge about where food at the supermarket comes from, how it is grown, what is sprayed on it, and the ecological and health impacts associated with it. That is why we would like to increase the transparency of our local food system by growing the food right in your community- and feeding it to you and your neighbours!
Capital Greens employs traditional organic methods to grow our produce, and we do not use any pesticides whatsoever, not even the organic ones. The goals of our growing methods are not just to be sustainable by maintaining the health of our soil. Rather, we aim even higher. We use methods and strategies that we believe are regenerative, i.e. improve the health of our soils. We focus on minimizing soil disturbance (e.g. tillage) which helps to sequester carbon and increase organic matter and biodiversity in our soil. It is our firm belief that healthy soil is the basis of healthy food, and healthy communities.
We specialize in growing lettuces and other salad greens, but also grow a variety of other delicious veggies as well. You can support Capital Greens by purchasing our delicious offerings at the Just Food Farmstand or the Lansdowne Farmer's Market every Sunday throughout the Summer. You can also find our products in several grocery stores throughout the city.
For more information
Website | www.capitalgreens.ca
Chi Garden
Sun Shan and Li Bo
The Chi Garden is a market garden specialized in organically grown vegetables, Asian vegetables and herbs, wild edible greens, and fermented vegetables. We are located at 2389 Pepin Ct, Gloucester, about 12 kilometers east of Parliament Hill, Ottawa, Ontario.
Our garden was founded by two environment professionals, Li Bo and Sun Shan, and has been growing a farm garden, both for homesteading and farmers market, since 2014. Started gardening organically in Bruce County, in the beautiful lake shore of Huron, we have relocated and will become a Certified Organic farm business from 2017 based at the JustFood farm.
At the Chi Garden, we value crop variety and farming traditions from both the global east and west. Our DIVERSITY SALAD, a variety of over 10 mixed eastern and western greens, provides a not-to-be-found-anywhere-else experience of enhanced flavor and health benefits, and surely adds to the emerging culinary culture of Canada! Edible chrysanthemum, tender bok choy, sweet pea shoots, goji leaves and Chinese kale, are but a few examples to find in your salad mix of fresh lettuce and arugula!
The Chi Garden is also cultivating WILD EDIBLE PLANTS: wild garlic, lambs quarter and wild leek, and more, and is hoping to bring them to market soon.
Our farm kitchen also prepares FERMENTED VEGETABLES. The Chi Garden has a variety of raw fermented products including kimchi, ginger-infused fermented chili, soy sauce fermented garlic scape, sauerkraut, and Yunnan style sauerkraut and fermented soy nuts chili paste. These specialty ferments are made with real passion to bring probiotic enzymes, antioxidants, and such flavors to bring childhood memories and ease homesickness for all!
A little bit about the name of our family business, the Chi Garden. Chi is romanized from a traditional Chinese character ? (ji4), owing to its origin from a common and much loved vegetable herb in many Asian countries: ?? (jicao) in ancient Chinese, ??? Yuxingcao or ??? zhe'ergen, in today's China, Dokudami in Japanese. It is sometimes referred to as fish mint in English, but maybe more familiar by its Latin name to horticulturists, Houttuynia cordata. In Asia, this herb has both culinary and medicinal use, and is believed to be a 'poison blocking plant'. For us at the Chi Garden, it signifies our aspiration to bridge and to bring together traditional knowledge, remedies provided by plants, and culinary know-hows from around the world.
Our other Asian vegetables are: bitter melons, bok choy, chili pepper, daikon radish, perilla and shiso, celtuce, Chinese kale, okra, waxy corn, edamame (vegetable soy nuts) and many more.
We are experimenting with our Half Organic Farming, Half International Exchanges and Study Tours life/work style. The Chi Garden business is also a basis to connect with our exchange visitors and like-minded people. To find out more about our stories, experiments and tours, please visit https://www.thechigarden.com.
Where to buy

Information coming soon!
Contact us
Email | chigarden2015@gmail.com
Phone | 613-981-4568
Earth and Heart Organics
Jean Claude, Frantz and Françoise Celestin
Organic Way focuses on growing organic rare crops (like jute) with potential nutritional elements. Other general crops are also harvested to accompany the rare ones. It will be a tremendous experience once you try them and learn about them. Usage of these crops should naturally bring you to the consumption of healthy foods.
Past Start-Up Farms
Bird & Bee
Jordan Bouchard and Jamie Farris-Manning
What do we do? Local Organic Seed Production (vegetables, flowers, herbs)
About Us:
At Bird & Bee we share a common interest in good food, good company, and good conversation. We farm part-time because it is a lifestyle that we love. The food that comes off of our 1-acre seed plot is mostly eaten, processed and preserved for winter use. The seeds we save are primarily sold to farmers and gardeners in our region. A portion of our seed harvest each year is donated to seed libraries to help keep a diverse set of species in production.
Our seeds are selected for the Eastern Ontario bioregion and are grown using organic methods. When choosing new varieties, we look for breeding projects with strong genetics, keeping biodiversity in mind. Our seeds are open-pollinated and will grow true to type. We save all of our own seeds at Just Food Farm in Ottawa, Ontario. Our seeds are certified organic by Ecocert Canada.
Meet the founders:
Jordan Bouchard
Jordan can talk about seeds all day, and is your go-to-guy for all obscure but useful factoids. He's passionate about plants and food, and is an excellent chef. At the farm, Jordan does most of the seed crop management, from variety selection to post-harvest processing. He loves compost and is happiest when he's knee-deep in dirt.
Jamie Farris-Manning
Jamie loves reading books, being creative and exploring the outdoors. She's handy at almost everything and hopes to own a goat someday. At the farm, Jamie is the organizer and problem-solver. She manages the business side of things, but spends time in the dirt, too. Her favourite farm-task is weeding sunflowers.
Contact Us
Website | www.birdandbee.ca
Leaf House City Farm
Emily Colley-Divjak and Karin Freeman
We are a brand new, certified organic start-up farm here at Just Food in Ottawa. This season we will be growing a variety of vegetables and edible flowers with an emphasis on salad fixins' and fare. Both of us graduated in 2018 from the Sustainable Agriculture program at Fleming College after working a few seasons on various farms (from berries to vegetables to cut flowers) and are very excited to be growing on our own this year.
Both of us have vested interest in creatively reusing materials, experimenting with different methods and taking care of the soil/plant health by always growing without using chemical or synthetic pesticides or fertilizers.
We are ready for a busy season full of fun and major learning!
We are so excited to get to know the folks around us, and to start building ourselves in this vibrant food community so that we may contribute our efforts towards food security and access in our new neighbourhood.
What we grow: A whole variety of colourful vegetables including salad mixes, radishes, beets, carrots, peas and so on. We also produce over 10 kinds of edible flowers- versatile and delicious!
Where to buy: Main St. Market, Just Food Farm Stand, Restaurant/Retail Orders
Contact Us:
Email: leafhousecityfarm@gmail.com
Instagram: @leafhousecityfarm
Facebook: facebook.com/leafhousecityfarm
Busy Beaver Farm
Christopher & Kimberly Bisson
Christopher and Kim are local Blackburn-ites that are among a growing number young millennial families on the leading edge of food production. BBF strives to demonstrate how a sustainable future is one where the thoughtful use of appropriate technology and traditional practices can be combined to serve the good of people and planet.
BBF takes its name from Eastern Ontario's unsung hero: the might beaver! These incredible animals are the planet's original ecological farmers and builders. In fact they are the ones who created the wetlands that resulted on the rich soils of our region.
The Bisson family has farmed for 400 years throughout the St. Lawrence Valley. The farm therefore brings the family back to their agricultural heritage by returning to a livelihood surrounded by food and nature. Large stock horses and sleds have been replaced by tractors and trucks, but they carry with them a true spirit of community and joie de vivre that their family has cultivated in their production of food since before they came to New France in the 17th Century.
BBF invites you to help take direct control of your food system and eat local and organic https://klonopinshop.com produce. They grow a mixed variety of organic vegetables focusing on developing gourmet-quality greens.
Products: Arugula, Basil, Beans, Beets, Cabbage, Carrots, Chard, Chives, Cilantro, Corn, Cucumber, Dill, Garden Cress, Garlic, Eggplant, Kale, Leeks, Lettuce, Micro-Greens, Mustard Greens, Onions, Orach, Pak Choi, Parsley, Parsnip, Peppers, Pumpkin, Radish, Spinach, Squash, Sweet Potato, Tatsoi, Tomatoes, Turnip, Zucchini
Where to Buy: BBF offers CSA boxes and will be selling the the Just Food Farm market stand on Sundays in Blackburn Hamlet.
Contact:
Service en français et anglais.

E-mail: busybeaverfarm@gmail.com
Website: busybeaverfarm.com
Phone: 613-220-1152
Twitter: @BsyBvrFm
Facebook: facebook.com/BusyBeaverFarm
Instagram: @christopher.kellybisson
Tumblr: busybeaverfarm.tumblr.com
Mediterra Market Garden
Mete Pamir
Mete is eager to explore the connections among global food cultures, traditional agricultural methods and urban farming practices. At the Mediterra Market Garden he tests a variety of crops and aims to build a practical knowledge base for the production and consumption of healthy, sustainable and delicious food.
Products: A wide variety of vegetables, legumes, herbs and greens with a particular focus on produce used in Mediterranean cuisine.
Where to Buy: Place an e-mail order or check out the stand at Just Food Farm Gate.
Contact:
Phone: 613.726.7597
E-mail: mete.pamir@gmail.com
Facebook: www.facebook.com/mediterragarden
Herbivor Farm
Lisa Gualtieri and Justin Palmer
As a small-scale organic vegetable farm we strive to offer flavor, nutrition, diversity and sustainability. Our produce is grown with the greatest respect for natural systems without the use of chemicals or synthetic fertilizers. We enjoy offering our members the opportunity to be adventurous in their cooking and eating, and grow a diversity of tasty, healthy and unique cultivars, including many heirloom varieties. Located 10 minutes from downtown Ottawa, we are dedicated to connecting people with their local food system and are more than happy to host visitors or eager volunteers! We offer CSA boxes and sell at the Just Food farm stand in Blackburn Hamlet.
Products: Beans, beets, bok choi, broccoli, cabbage, carrots, cucumbers, eggplant, salad greens, garlic, herbs, kale, kohlrabi, leeks, lettuce, melons, microgreens, onions, peas, peppers, potatoes, pumpkin, radishes, summer squash, rutabaga, winter squash, swiss chard, spinach, tomatoes, turnips, watermelon, and zucchini.
We are currently in transition to certified organic, GMO free, no chemical pesticides or synthetic fertilizers, using heirloom seed.
Where to Buy: We are offering a CSA for the 2014 summer/fall season and our produce will also be available through Just Food Farm Gate Stand.
Contact: Lisa Gualtieri and Justin Palmer
Phone: 613-875-9155
Email: herbivorfarm@gmail.com
Website: www.herbivor.com
Or check out what's happening at the farm on www.facebook.com/Herbivorfarm
Birch Hill
Greg Link and Sonia Link
Greg, Sonia and their lil' sprout Ishan are first year farmers in the Farm Start-up program. They, with the help of their family, have certainly established a family grown operation that strives to provide fresh, organic produce at market and through CSA. With a number of farming apprenticeships behind them, they are ready to go out on their own.
Products: This year Birch Hill Farm is growing a variety of mixed veggies: radishes, carrots, beets, kales, chard, lettuces, peppers, eggplant, cucumbers, squash, zucchini and tomatoes.
Where to Buy: Carleton Place Farmers' Market
Contact:
Email: birchhillfarm1@gmail.com
Barefoot Gardens
Randi Townsend & Sarah Lawrance
With backgrounds in grassroots activism and collective organizing, as well as farming and gardening, we are committed to exposing the structural roots of food injustice. Through our farming practices and community-building initiatives, we hope to highlight and contribute to critical analyses of the social relations of food and farming.
We believe food is a human right and should be safe and accessible to all. Accordingly, we sell our produce and seedlings based on a sliding price scale in select locations, and we gladly provide growing advice to help our communities build their own food security.
Products: non-certified organic seedlings, mixed vegetables, herbs, and flowers.
Where to Buy: Available at the Red Apron, Market Organics, West End Well, and the Just Food Farm Gate stand.
Contact: Randi Townsend & Sarah Lawrance
Email: barefootinthegardens@gmail.com
Website: www.facebook.com/barefootinthegardens
Twitter: @BFGOttawa
C & L Gardens
Lisa Holland & Caroline Quintal
With agriculture degrees in their back pockets and a great passion for growing food, Caroline and Lisa are working together this summer to produce delicious fruits and vegetables. But it wasn't farming that brought these two 'Aggies' together; it was actually their office jobs that allowed them to discover they both had dreams of being farmers! So, on a quarter acre of land found at the Just Food Farm, they will be producing food in a sustainable way. In doing so, they will be working with the land to produce healthy food that even they can't wait to harvest, taste and share!
Come discover a variety of vegetables, a few fruits and mostly the love and appreciation for vegetable agriculture!
Products: Lisa and Caroline produce non-certified organic mixed vegetables and some fruit.
Where To Buy: at the Just Food Farm Gate Stand and order by email.
Contact: Lisa and Caroline
Phone : 613-315-9709 (Lisa's cell)
Email : jardinsCLgardens@gmail.com
Facebook: Jardins C&L Gardens
Goddard Id Farm
Jeremy Foss
Jeremy Foss is a fourth year farmer and proprietor of Goddard Id Farm. The farm is located inside the Greenbelt and will be providing weekly CSA boxes to customers in Ottawa. He will be growing over 100 different varieties of vegetables this year.
Jeremy has been involved with local food and other sustainability initiatives for many years. He decided to begin farming while looking for practical applications for an environmental planning diploma. The philosophical idea behind Goddard Id Farm is that providing high quality, local produce is an excellent way of reconnecting people with their food and the land on which it is grown. This re-connection between people, food and land will then serve as a launch pad to stimulate broader interest in other aspects of sustainable development.
Where to Buy: CSA boxes, Just Food Farm Gate Stand
Contact:
Email: goddardidfarm@gmail.com
For more information, visit www.facebook.com/GoddardIdFarm.
Tiller's Haven
Sudhir Kodati and Mete Pamir
With backgrounds in development economics and social justice activism, we aim to facilitate cross-cultural learning in regards to food production and build connections between historical food cultures and agricultural methods across borders.
Tillers' Haven is a meeting place for knowledge-sharing networks between diverse Ottawa communities and global food traditions with a vision to engage its customers in the production and consumption of healthy, sustainable and delicious food.
Products: Sudhir and Mete specialize in non-certified organic production of a wide variety of vegetables, legumes, herbs and greens with particular focus on Mediterranean and South Asian cuisines.
Where To Buy: Sign up for their weekly CSA, place an e-mail order or check out their produce at the Just Food Farm Gate Stand.
Contact: Phone: 613.596.9933 (Sudhir) or 613.726.7597 (Mete)
Email: tillershaven@gmail.com
Follow the farm news at http://www.facebook.com/tillershaven
Little Lot Farm
Laura Altorio, Matthew Cyr,Tara Robertson
We are a certified organic start-up farm located in Ottawa, Ontario that produces fresh veggies, herbs, and eggs using sustainable growing practices. Working with the Just Food Start-Up Farm Program, this is our first year growing on the Just Food Farm.
"Just three urban foodies who outgrew their backyard plots…"
Each of us started out with a desire to learn how to live in a more self-reliant and sustainable way, and to teach our children some essential skills that will help them to do the same. So we began with food. Our basic goal was to nourish our families with fresh, organic goodness that we grew ourselves.
As we learned how to tend our own little backyard and balcony crops, we were motivated to continue learning and to expand our role in our food community; we found ourselves (and each other) at an information session for Just Food's Start-Up Farm Program. And the rest, as they say, is history…
As Little Lot Farm, we're inspired to serve our community by contributing to our local food system in a sustainable and healthy way – to nourish our community with fresh, organic produce that we grow ourselves, and inspire our neighbours to explore their connection to the food they eat and the people who grow it.
We grow certified organic and heirloom varieties of:
Culinary herbs (basil, cilantro, parsley, thyme, chives)
Tomatoes and cherry tomatoes
Carrots
Swiss chard
Bunching onions (scallions/green onions)
Broccoli
Summer squash (zucchini, paddy pan)
Radishes
Cucumbers
Cauliflower
Brussel sprouts
Bell peppers and 'snacking peppers'
Salad greens
Kale
Leeks
Lettuce
Peas
Watermelon
Beets
Where to buy
At the Just Food Farm stand and our upcoming Facebook page.
Contact us
Email | littlelotfarm@gmail.com
Facebook | facebook.com/littelotfarm613
Instagram | instagram.com/littlelotfarm613
New Leaf Farm
Gordon Tennant and Gregor Tennant
New Leaf Organic Farm has been an ongoing dream since 2015 when Gregor moved from Hotel and Restaurant management studies to actually working and growing food at Riverglen Biodynamic Farm and Gord started clearing land near his parent's property to build a home using Permaculture Principles.
In 2017 Gregor and Gord will be moving to the next stage of our development growing and marketing a full variety of Organic vegetables and fruits at the Just Food Farm and on the family land near Perth. We are committed to growing healthy organic produce using the most sustainable, natural methods we can without pesticides or herbicides.
We will also be continuing to improve the family land and its soil in Perth though organic practices with the hope of introducing a range of crops from fruits and vegetables to grains and field crops for human and livestock consumption.
Where to buy
We will be selling our produce this summer at the Just Food Farm Gate on Sundays and at the Perth Farmer's Market on Saturdays.
Contact us
Email | newleaforganicfarm@gmail.com
Phone | 613-297-5908
Hedgedale Farm
Meagan McVeigh and Jeff McVeigh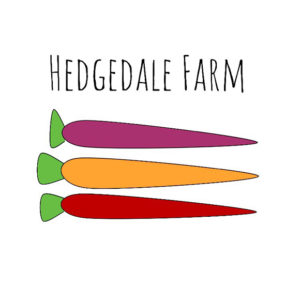 Hedgedale Farm is a small scale organic vegetable farm. We concentrate on producing reliable vegetable staples that are delicious and uniquely beautiful.
Farmers Meagan and Jeff McVeigh are a father daughter team. Meagan has a background in social services and food security. She is passionate about increasing accessibility to good local food. Jeff has been a realtor in the ottawa area but has always had a connection to farming. His Mother grew up on a Farm and his way of life is attributed to the hard working ethics of farm life. Hedgedale is the name of his mothers farm and is an ode to her and that life style.
Where to buy & Contact us
Website | HedgedaleFarm.com
Still Growing Farms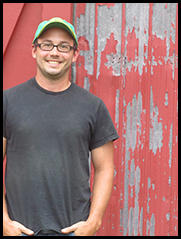 Dan Kristolaitis
Still Growing Farms, owned and operated by Dan, began in 2013 at the Just Food Farm.
Dan got his first taste of farming as a child; feeding pigs, chasing sheep and collecting eggs at Still family reunions in Manitoba. Every year he'd work the garden with his grandparents, Harvey and Elsie Still. In adulthood Dan earned a Diploma in Agriculture from Guelph University. He has farmed everywhere from apple orchards in Mendoza, Argentina to vegetable and livestock farms here in the Ottawa Valley. Most recently Dan worked for the federal corn breeding program at the Central Experimental Farm, right in the heart of the Capital. This farm pays tribute to his family roots in farming, and to the growing craving for producing healthy, local food.
Where to buy
This year we are offering a weekly CSA of delicious, nutritious certified organic produce. We are also excited to offer pasture raised chickens for the first time. Order yours today!
Contact us
Email | stillgrowingfarms@gmail.com
Phone | 613-325-0497
Start-Up Farmers in the Media