2015 Farms List and Contact Information
The following farms operate at the Just Food Farm as part of our 2015 Start-Up Farm Program. Just Food Farm became certified organic through Ecocert in October 2014 and maintains this certification on a yearly basis.
The Just Food Farm is located in the Ottawa Greenbelt, 12 km east of Parliament Hill.
Beat Greens Garden
Sarah Lawrance


With a background in grassroots activism, collective organizing, and, more recently, organic farming, I aim to produce great food while also contributing to critical analyses of the social relations of food and farming.
I believe healthy food is a human right and should be accessible to all. This means:
1) Healthy food should be affordable to people from all income levels and life situations; and
2) People should have free access to the skills needed to produce their own food.
Follow this link to read a blog post about my thoughts on accessibility: http://ravenswingottawa.tumblr.com/post/119119977658/featured-blog-post-what-is-a-sliding-scale-and.
Products: Seedlings, 3 unique salad mixes, a wide variety of herbs & leafy greens, microgreens, heirloom varieties
Where to Buy: Market Organics (Byward Market), West End Well (Hintonburg), Il Negozio Nicastro (Glebe), and more.
Contact:
Email: beatgreens@gmail.com
Website: www.facebook.com/beatgreens
Green's Creek Farm
Jordan Bouchard and Christopher Kelly-Bisson
Green's Creek Farm focuses on the production of herbs and seeds. It was previously named Busy Beaver.
We have offered CSA boxes in the 2015 season, however we are currently exploring alternative production options. Please contact us for more information about future plans for our CSA program. In the meantime we are experimenting with hops and other herbs, as well as open pollinated organic vegetable seeds.
Greens Creek Farm does expect to sell corn and garlic in late season of 2016.
Products: Hops, seeds, herbs, corn and garlic
Contact:

Email: info@greenscreekfarm.com                    
Phone: 613-220-1152
Website: https://greenscreekfarm.com
Ekoroot Farm
Melanie McLaughlin and Ianik Lacroix
My name is Melanie and I grew up on a small farm located in North Eastern Ontario and my husband, Ianik, also has farming and machinery experience in his background. We are both excited to be test croppers at the Just Food Farm this summer where we will be growing a variety of vegetables.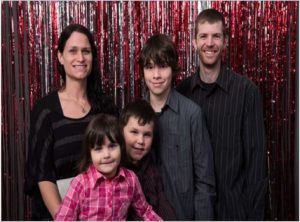 We care about how we grow our food and keeping our environment healthy is important in growing healthy plants, healthy people and a healthy economy.  Our plan is to practice sustainable methods and to grow food without using pesticides or chemically treated products.
To us, growing food locally is an important part of history and a sustainable practice that we are excited to learn, be part of and share.  All our vegetables are family grown, one root at a time.
Products: Mixed vegetables that are grown without using any chemicals, pesticides or treated seeds, while conserving water and electricity.  They strive be as local as possible in their production and distribution.
Where to Buy: Just Food Farm Stand, or Email orders.  Email, drop off location and order form available at www.ekorootfarm.com
Contact:
Phone : 613-807-3340 text or phone
Email : melanie@ekoroot.com
Service en français : Ianik@ekoroot.com
Website : www.ekorootfarm.com
Happy Radish Farm
Jennifer Throop and Ryan Christie
Happy Radish Farm specializes in growing a wide variety of certified organic vegetables and herbs. Jenny and Ryan are passionate about growing food! Jenny has a background in horticulture and geography. She is attentive to the health of the plants, the soil, and the surrounding environment. Ryan is new to farming. He has a background in hard work, and tons of experience eating vegetables! He loves being out in the field, learning all about organic vegetable production.
Where to Buy: Happy Radish Farm sells their produce through CSA, weekly email orders, the farm stand at 2389 Pépin Court (Sunday's 10-3), and will be attending Beechwood Market on occasion (Saturday's 9-2).
Contact:
Jennifer Throop or Ryan Christie
Email: happyradishfarm@gmail.com
Website: www.happyradishfarm.ca
Twitter: @happyradishfarm
Facebook: www.facebook.com/happyradishfarm
Goddard Id Farm
Jeremy Foss
Jeremy Foss is a fourth year farmer and proprietor of Goddard Id Farm. The farm is located inside the Greenbelt and will be providing weekly CSA boxes to customers in Ottawa. He will be growing over 100 different varieties of vegetables this year.
Jeremy has been involved with local food and other sustainability initiatives for many years. He decided to begin farming while looking for practical applications for an environmental planning diploma. The philosophical idea behind Goddard Id Farm is that providing high quality, local produce is an excellent way of reconnecting people with their food and the land on which it is grown. This re-connection between people, food and land will then serve as a launch pad to stimulate broader interest in other aspects of sustainable development.
Where to Buy: CSA boxes, Just Food Farm Gate Stand
Contact:
Email: goddardidfarm@gmail.com
For more information, visit www.facebook.com/GoddardIdFarm.
Tiller's Haven
Sudhir Kodati and Mete Pamir
With backgrounds in development economics and social justice activism, we aim to facilitate cross-cultural learning in regards to food production and build connections between historical food cultures and agricultural methods across borders.
Tillers' Haven is a meeting place for knowledge-sharing networks between diverse Ottawa communities and global food traditions with a vision to engage its customers in the production and consumption of healthy, sustainable and delicious food.
Products: Sudhir and Mete specialize in non-certified organic production of a wide variety of vegetables, legumes, herbs and greens with particular focus on Mediterranean and South Asian cuisines.
Where To Buy: Sign up for their weekly CSA, place an e-mail order or check out their produce at the Just Food Farm Gate Stand.
Contact: Phone:  613.596.9933 (Sudhir) or 613.726.7597 (Mete)
Email: tillershaven@gmail.com
Follow the farm news at http://www.facebook.com/tillershaven
Start-Up Farmers in the Media