2016 Farms List and Contact Information
The following farms operate at the Just Food Farm as part of our 2016 Start-Up Farm Program. Just Food Farm became certified organic through Ecocert in October 2014 and maintains this certification on a yearly basis.
The Just Food Farm is located in the Ottawa Greenbelt, 12 km east of Parliament Hill.
Beat Greens Garden
Sarah Lawrance


With a background in grassroots activism, collective organizing, and, more recently, organic farming, I aim to produce great food while also contributing to critical analyses of the social relations of food and farming.
I believe healthy food is a human right and should be accessible to all. This means:
1) Healthy food should be affordable to people from all income levels and life situations; and
2) People should have free access to the skills needed to produce their own food.
Follow this link to read a blog post about my thoughts on accessibility: http://ravenswingottawa.tumblr.com/post/119119977658/featured-blog-post-what-is-a-sliding-scale-and.
Products: Seedlings, 3 unique salad mixes, a wide variety of herbs & leafy greens, microgreens, heirloom varieties
Where to Buy: Market Organics (Byward Market), West End Well (Hintonburg), Il Negozio Nicastro (Glebe), and more.
Contact:
Email: beatgreens@gmail.com
Website: www.facebook.com/beatgreens
Green's Creek Farm
Jordan Bouchard and Christopher Kelly-Bisson
Green's Creek Farm focuses on the production of herbs and seeds. It was previously named Busy Beaver.
We have offered CSA boxes in the 2015 season, however we are currently exploring alternative production options. Please contact us for more information about future plans for our CSA program. In the meantime we are experimenting with hops and other herbs, as well as open pollinated organic vegetable seeds.
Greens Creek Farm does expect to sell corn and garlic in late season of 2016.
Products: Hops, seeds, herbs, corn and garlic
Contact:

Email: info@greenscreekfarm.com                    
Phone: 613-220-1152
Website: https://greenscreekfarm.com
Happy Radish Farm
Jennifer Throop and Ryan Christie
Happy Radish Farm specializes in growing a wide variety of certified organic vegetables and herbs. Jenny and Ryan are passionate about growing food! Jenny has a background in horticulture and geography. She is attentive to the health of the plants, the soil, and the surrounding environment. Ryan is new to farming. He has a background in hard work, and tons of experience eating vegetables! He loves being out in the field, learning all about organic vegetable production.
Where to Buy: Happy Radish Farm sells their produce through CSA, weekly email orders, the farm stand at 2389 Pépin Court (Sunday's 10-3), and will be attending Beechwood Market on occasion (Saturday's 9-2).
Contact:
Jennifer Throop or Ryan Christie
Email: happyradishfarm@gmail.com
Website: www.happyradishfarm.ca
Twitter: @happyradishfarm
Facebook: www.facebook.com/happyradishfarm
Van Vliet Horticulture
Daniel Van Vliet
Van Vliet Horticulture, owned by Daniel Van Vliet, is a producer of fresh organic vegetables including tomatoes, lettuce, onions, garlic, shallots, peppers, lettuce, greens herbs, cut flowers and more. Daniel is a graduate of the Environmental Studies program at Carleton University and will be building on previous experience working in greenhouses, floriculture and market gardens to bring fresh high quality products to the Ottawa consumer market.
Where to Buy:  Just Food Farm Gate Stand & Main Street Farmers Market
Contact: Daniel Van Vliet
Phone: 613.301.3278
Email: vanvliethorticulture@rogers.com
Website: www.vanvliethorticulture.com
Sweetroot
Wren Toombs
Francais suit
Certified Organic Grafted Fruit Tree Nursery
Sweetroot offers organically grown, cold hardy, heirloom, disease resistant, hand-grafted fruit trees and uncommon small fruit plants for sale to gardeners and home orchardists in the greater Ottawa-Gatineau area. Specially selected to thrive in our climate under low-maintenance, chemical-free growing methods, our trees and small fruit plants can produce delicious, nutrient-dense fruit year after year that you will never find at the grocery store.
How are our grafted fruit trees different from those offered at other nurseries and big box stores? In addition to having a wide selection of rare heirloom cultivars that have been selected for chemical free growing, our trees are adapted to thrive in the climate and soils typical to our bioregion, having survived at least one winter in the ground at our nursery.
Guaranteed against replacement to leaf out. Limited availability. Ask us about our edible landscaping and tree planting services.
Where to buy: Just Food Farm gate stand, or direct order.
Contact: Wren Toombs
Phone: 613-323-2793
Email: wren.toombs@icloud.com
—-
Pépinière d'arbres fruitiers certifiés biologiques
Sweetroot vend, aux jardiniers et arboriculteurs fruitiers de la région d'Ottawa-Gatineau, des arbustes fruitiers et des arbres patrimoniaux greffés à la main qui sont résistants au froid et aux maladies. Sélectionnés spécifiquement pour qu'ils puissent s'épanouir sans trop d'efforts et produits chimiques dans notre climat ardu, nos arbres et arbustes peuvent produire, année après année, de délicieux fruits, riches en nutriments, que vous ne trouverez jamais à l'épicerie.
En quoi nos arbres et arbustes certifiés biologiques sont-ils différents de ceux offerts dans les autres pépinières et magasins à grande surface? En plus de comprendre une large sélection de cultivars patrimoniaux choisis pour croître sans produits chimiques, nos arbres et arbustes sont adaptés au climat et aux sols de notre région. Ils ont en effet survécu au moins un hiver dans le sol de notre pépinière à Blackburn Hamlet.
La feuillaison de nos arbres le printemps suivant votre achat est garantie contre remplacement. Disponibilité limitée. Renseignez-vous au sujet de nos services d'aménagement paysager comestible et de plantation d'arbres.
Disponible: Ferme Alimentation Juste, ordre direct 
Contact: Wren Toombs
Téléphone: 613-323-2793
Email: wren.toombs@icloud.com
Past Start-Up Farms
Busy Beaver Farm
Christopher & Kimberly Bisson
Christopher and Kim are local Blackburn-ites that are among a growing number young millennial families on the leading edge of food production. BBF strives to demonstrate how a sustainable future is one where the thoughtful use of appropriate technology and traditional practices can be combined to serve the good of people and planet.
BBF takes its name from Eastern Ontario's unsung hero: the might beaver! These incredible animals are the planet's original ecological farmers and builders. In fact they are the ones who created the wetlands that resulted on the rich soils of our region.
The Bisson family has farmed for 400 years throughout the St. Lawrence Valley. The farm therefore brings the family back to their agricultural heritage by returning to a livelihood surrounded by food and nature. Large stock horses and sleds have been replaced by tractors and trucks, but they carry with them a true s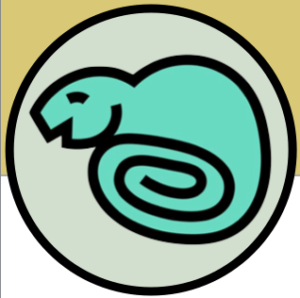 pirit of community and joie de vivre that their family has cultivated in their production of food since before they came to New France in the 17th Century.
BBF invites you to help take direct control of your food system and eat local and organic produce. They grow a mixed variety of organic vegetables focusing on developing gourmet-quality greens.
Products: Arugula, Basil, Beans, Beets, Cabbage, Carrots, Chard, Chives, Cilantro, Corn, Cucumber, Dill, Garden Cress, Garlic, Eggplant, Kale, Leeks, Lettuce, Micro-Greens, Mustard Greens, Onions, Orach, Pak Choi, Parsley, Parsnip, Peppers, Pumpkin, Radish, Spinach, Squash, Sweet Potato, Tatsoi, Tomatoes, Turnip, Zucchini
Where to Buy: BBF offers CSA boxes and will be selling the the Just Food Farm market stand on Sundays in Blackburn Hamlet.
Contact:
Service en français et anglais.

E-mail: busybeaverfarm@gmail.com
Website: busybeaverfarm.com
Phone: 613-220-1152
Twitter: @BsyBvrFm
Facebook: facebook.com/BusyBeaverFarm
Instagram: @christopher.kellybisson
Tumblr: busybeaverfarm.tumblr.com
Mediterra Market Garden
Mete Pamir
Mete is eager to explore the connections among global food cultures, traditional agricultural methods and urban farming practices. At the Mediterra Market Garden he tests a variety of crops and aims to build a practical knowledge base for the production and consumption of healthy, sustainable and delicious food.
Products: A wide variety of vegetables, legumes, herbs and greens with a particular focus on produce used in Mediterranean cuisine.
Where to Buy: Place an e-mail order or check out the stand at Just Food Farm Gate.
Contact:
Phone: 613.726.7597
E-mail: mete.pamir@gmail.com
Facebook: www.facebook.com/mediterragarden
Herbivor Farm
Lisa Gualtieri and Justin Palmer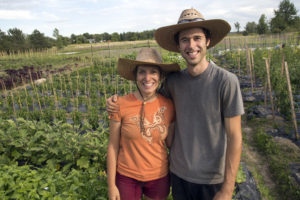 As a small-scale organic vegetable farm we strive to offer flavor, nutrition, diversity and sustainability. Our produce is grown with the greatest respect for natural systems without the use of chemicals or synthetic fertilizers. We enjoy offering our members the opportunity to be adventurous in their cooking and eating, and grow a diversity of tasty, healthy and unique cultivars, including many heirloom varieties. Located 10 minutes from downtown Ottawa, we are dedicated to connecting people with their local food system and are more than happy to host visitors or eager volunteers!  We offer CSA boxes and sell at the Just Food farm stand in Blackburn Hamlet.
Products: Beans, beets, bok choi, broccoli, cabbage, carrots, cucumbers, eggplant, salad greens, garlic, herbs, kale, kohlrabi, leeks, lettuce, melons, microgreens, onions, peas, peppers, potatoes, pumpkin, radishes, summer squash, rutabaga, winter squash, swiss chard, spinach, tomatoes, turnips, watermelon, and zucchini.
We are currently in transition to certified organic, GMO free, no chemical pesticides or synthetic fertilizers, using heirloom seed.
Where to Buy: We are offering a CSA for the 2014 summer/fall season and our produce will also be available through Just Food Farm Gate Stand.
Contact: Lisa Gualtieri and Justin Palmer
Phone: 613-875-9155
Email: herbivorfarm@gmail.com
Website: www.herbivor.com
Or check out what's happening at the farm on www.facebook.com/Herbivorfarm
Ekoroot Farm
Melanie McLaughlin and Ianik Lacroix
My name is Melanie and I grew up on a small farm located in North Eastern Ontario and my husband, Ianik, also has farming and machinery experience in his background. We are both excited to be test croppers at the Just Food Farm this summer where we will be growing a variety of vegetables.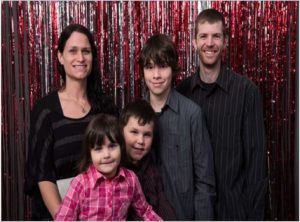 We care about how we grow our food and keeping our environment healthy is important in growing healthy plants, healthy people and a healthy economy.  Our plan is to practice sustainable methods and to grow food without using pesticides or chemically treated products.
To us, growing food locally is an important part of history and a sustainable practice that we are excited to learn, be part of and share.  All our vegetables are family grown, one root at a time.
Products: Mixed vegetables that are grown without using any chemicals, pesticides or treated seeds, while conserving water and electricity.  They strive be as local as possible in their production and distribution.
Where to Buy: Just Food Farm Stand, or Email orders.  Email, drop off location and order form available at www.ekorootfarm.com
Contact:
Phone : 613-807-3340 text or phone
Email : melanie@ekoroot.com
Service en français : Ianik@ekoroot.com
Website : www.ekorootfarm.com
Birch Hill
Greg Link and Sonia Link
Greg, Sonia and their lil' sprout Ishan are first year farmers in the Farm Start-up program. They, with the help of their family, have certainly established a family grown operation that strives to provide fresh, organic produce at market and through CSA. With a number of farming apprenticeships behind them, they are ready to go out on their own.
Products: This year Birch Hill Farm is growing a variety of mixed veggies: radishes, carrots, beets, kales, chard, lettuces, peppers, eggplant, cucumbers, squash, zucchini and tomatoes.
Where to Buy: Carleton Place Farmers' Market
Contact:
Email: birchhillfarm1@gmail.com
Barefoot Gardens
Randi Townsend & Sarah Lawrance
With backgrounds in grassroots activism and collective organizing, as well as farming and gardening, we are committed to exposing the structural roots of food injustice. Through our farming practices and community-building initiatives, we hope to highlight and contribute to critical analyses of the social relations of food and farming.
We believe food is a human right and should be safe and accessible to all. Accordingly, we sell our produce and seedlings based on a sliding price scale in select locations, and we gladly provide growing advice to help our communities build their own food security.
Products: non-certified organic seedlings, mixed vegetables, herbs, and flowers.
Where to Buy: Available at the Red Apron, Market Organics, West End Well, and the Just Food Farm Gate stand.
Contact: Randi Townsend & Sarah Lawrance
Email:  barefootinthegardens@gmail.com
Website:  www.facebook.com/barefootinthegardens
Twitter:  @BFGOttawa
C & L Gardens
Lisa Holland & Caroline Quintal
With agriculture degrees in their back pockets and a great passion for growing food, Caroline and Lisa are working together this summer to produce delicious fruits and vegetables. But it wasn't farming that brought these two 'Aggies' together; it was actually their office jobs that allowed them to discover they both had dreams of being farmers! So, on a quarter acre of land found at the Just Food Farm, they will be producing food in a sustainable way. In doing so, they will be working with the land to produce healthy food that even they can't wait to harvest, taste and share!
Come discover a variety of vegetables, a few fruits and mostly the love and appreciation for vegetable agriculture!
Products: Lisa and Caroline produce non-certified organic mixed vegetables and some fruit.
Where To Buy: at the Just Food Farm Gate Stand and order by email.
Contact: Lisa and Caroline
Phone : 613-315-9709 (Lisa's cell)
Email : jardinsCLgardens@gmail.com
Facebook: Jardins C&L Gardens
Goddard Id Farm
Jeremy Foss
Jeremy Foss is a fourth year farmer and proprietor of Goddard Id Farm. The farm is located inside the Greenbelt and will be providing weekly CSA boxes to customers in Ottawa. He will be growing over 100 different varieties of vegetables this year.
Jeremy has been involved with local food and other sustainability initiatives for many years. He decided to begin farming while looking for practical applications for an environmental planning diploma. The philosophical idea behind Goddard Id Farm is that providing high quality, local produce is an excellent way of reconnecting people with their food and the land on which it is grown. This re-connection between people, food and land will then serve as a launch pad to stimulate broader interest in other aspects of sustainable development.
Where to Buy: CSA boxes, Just Food Farm Gate Stand
Contact:
Email: goddardidfarm@gmail.com
For more information, visit www.facebook.com/GoddardIdFarm.
Tiller's Haven
Sudhir Kodati and Mete Pamir
With backgrounds in development economics and social justice activism, we aim to facilitate cross-cultural learning in regards to food production and build connections between historical food cultures and agricultural methods across borders.
Tillers' Haven is a meeting place for knowledge-sharing networks between diverse Ottawa communities and global food traditions with a vision to engage its customers in the production and consumption of healthy, sustainable and delicious food.
Products: Sudhir and Mete specialize in non-certified organic production of a wide variety of vegetables, legumes, herbs and greens with particular focus on Mediterranean and South Asian cuisines.
Where To Buy: Sign up for their weekly CSA, place an e-mail order or check out their produce at the Just Food Farm Gate Stand.
Contact: Phone:  613.596.9933 (Sudhir) or 613.726.7597 (Mete)
Email: tillershaven@gmail.com
Follow the farm news at http://www.facebook.com/tillershaven
Start-Up Farmers in the Media