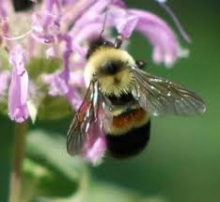 Pollination is not only essential for many of the foods and crops we rely on, it also plays a key role in maintaining the integrity of our natural ecosystems. Join pollination biologist Susan Chan to discuss the importance of native pollinators for food production, and in the broader context of conservation.
Susan will introduce participants to the native bees of Ontario and explain their importance. She will describe their behaviour and outline their habitat needs through photographs and stories. Learn simple tips for creating both foraging and nesting habitat in large or small spaces, and see examples of this work on several properties in east central Ontario.
Bio:  Susan Chan is an insect lover and an advocate for native bees in Ontario.  She holds a M.Sc. in Pollination Biology from the University of Guelph and speaks across Ontario on the subject of pollinator conservation in both farming and non-farming contexts. Susan is the Manager of the Native Pollinator Program at Farms at Work in Peterborough, Ontario.
When: Thursday August 14th. Doors open at 6:30, talk starts at 7 pm
Where: Ottawa Public Library, Main Branch, 120 Metcalfe at Laurier
Admission: $10 at the door, no registration required.