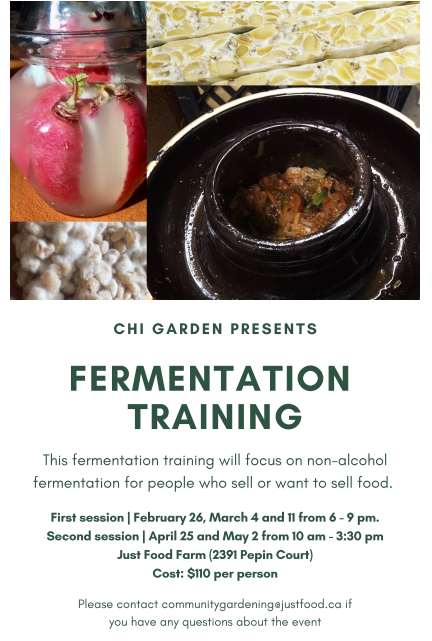 WHO: People who sell food or are planning to sell food
WHEN: First session is three Wednesday evenings:
February 26, March 4, March 11 – 6pm to 9pm  
Second session is two weekends:
April 25 and May 2 – 10am to 3:30pm
WHERE: Just Food Farm (2391 Pepin Court – Bus #25 and free parking) 
COST: $110            
RSVP: Click here to register
Topics include:
Non-alcohol fermentation and its potential for incorporating into your existing food/farm business
Lacto-fermentation such as making kimchi and tabasco style hot sauce
Fermenting beans and peas for making miso and tempeh
Grain fermentation varieties, including no-sweetener-added desserts such as sweet rice ferment or jiuniang, and using grains in vegetable lacto-fermentation
Daily ferment such as kefir
And many more…
Please contact  chigarden2015@gmail.com  if you have any questions about the event.

Background: What is fermentation? Why ferment?
Why is Just Food providing fermentation training?
Just Food partners with Chi Garden to provide a fermentation training that covers the history, science, safety, regulations, and techniques of fermentation. This training will take a system-approach and gives the participants an overview and comparison of many different fermented foods in the market as well as a variety of applications and new product ideas.
Similar to sustainable farming, fermentation is about working with good microbes. Some of these beneficial microbes occur naturally (such as in sauerkraut-making) while others were selectively domesticated, and co-evolved with humans for thousands of years (such as in miso-making).
The training session is designed for businesses that sell food, make food for various clientele, or plan on doing so in the Ottawa region. These can include restaurants, kitchens, food processors, grocery stores and farms.
Vegetables, grains, seeds, beans and peas, meat, dairy can all be found in their fermented forms. Come and find out how you can add fermented products into your business for wonderful taste, variety, cost-effectiveness, waste-reduction, innovation, and more!
From kefir to kombucha, from kimchi to miso, fermented foods have been steadily rising as a food trend.
Yet fermentation is much more than a fashion. It re-connects us to some of the most exciting culinary cultures around the world. Fermentation IS culture.
Although fermentation is now associated with cool trendy foods and even fine dining, it was originally associated with affordability. Since fermentation can turn ordinary ingredients into very tasty, safe and nutritious products, it helps empower communities and people with limited means.
Fermentation can also be used to divert food waste, and give new life to end-of-day produce. Fermentation techniques are low-cost, easy to learn and require no fancy equipment or technology.
Fermentation techniques can make food taste great in a way that is safe, nutritious, and preserves much longer. Our ancestors fine-tuned fermentation techniques long before science and understanding of the microbes at work.
Fermentation is an ingrained part of the local food movement. The sharing of global fermentation knowledge has opened up unprecedented opportunities to revamp the uses of local ingredients and turn them into diverse and amazing sauces, condiments, drinks, and staples.